The Practical Choice
The more you wear a mechanical watch, the deeper the attachment grows.
It must not only be beautiful, but also perform its function day
in and out with precision and reliability.
Easy to use, easy to see, and comfortable to wear, it marks the start of the day
when you put it on and the end when it is put away at night.
ORIENT STAR listens to owners and creates watches
that are an integral part of their everyday lifestyles.
Consideration of everything from the selection of materials to functionality
goes into the design of each model to enhance the pleasure of its daily use.
ORIENT STAR values the beauty of practicality.
To the Minute,
Easy On the Eye
Ease and accuracy of readability are improved by the gentle curve of the minute hand. The tip very nearly touches the minute marks. High precision machining of the long slender hand is just the beginning of the pursuit of ideal legibility. Advanced processing technology gives it the subtly exquisite bend appreciated by owners who know the practical value of every minute.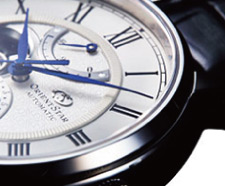 Time to Wind
The power reserve indicator defines ORIENT STAR practicality. A quick glance not only tells you how much time is left until it is time to wind, but also reminds owners that they are the power behind their joyful connection with an authentic mechanical watch.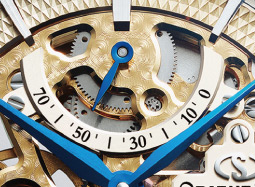 Dual Curved Sapphire Crystal
for a Good Look
Curved on both sides and finished with a Super Anti-Reflective (SAR) coating on both surfaces, the sapphire crystalis is designed to eliminate distortion and minimize reflectance for maximum ease of visibility. In fact, it almost seems like the crystal is not even there.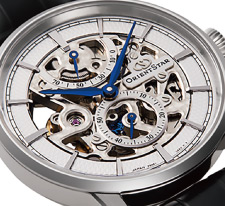 Ease, Comfort and
Durability
The deployant clasp with pushbutton release clasp snaps on in an instant and is easily removed. It is not only easy to put on, but also prevents wear and tear on the strap itself. In addition to being easy and comfortable to wear, it is designed to last for years to come.