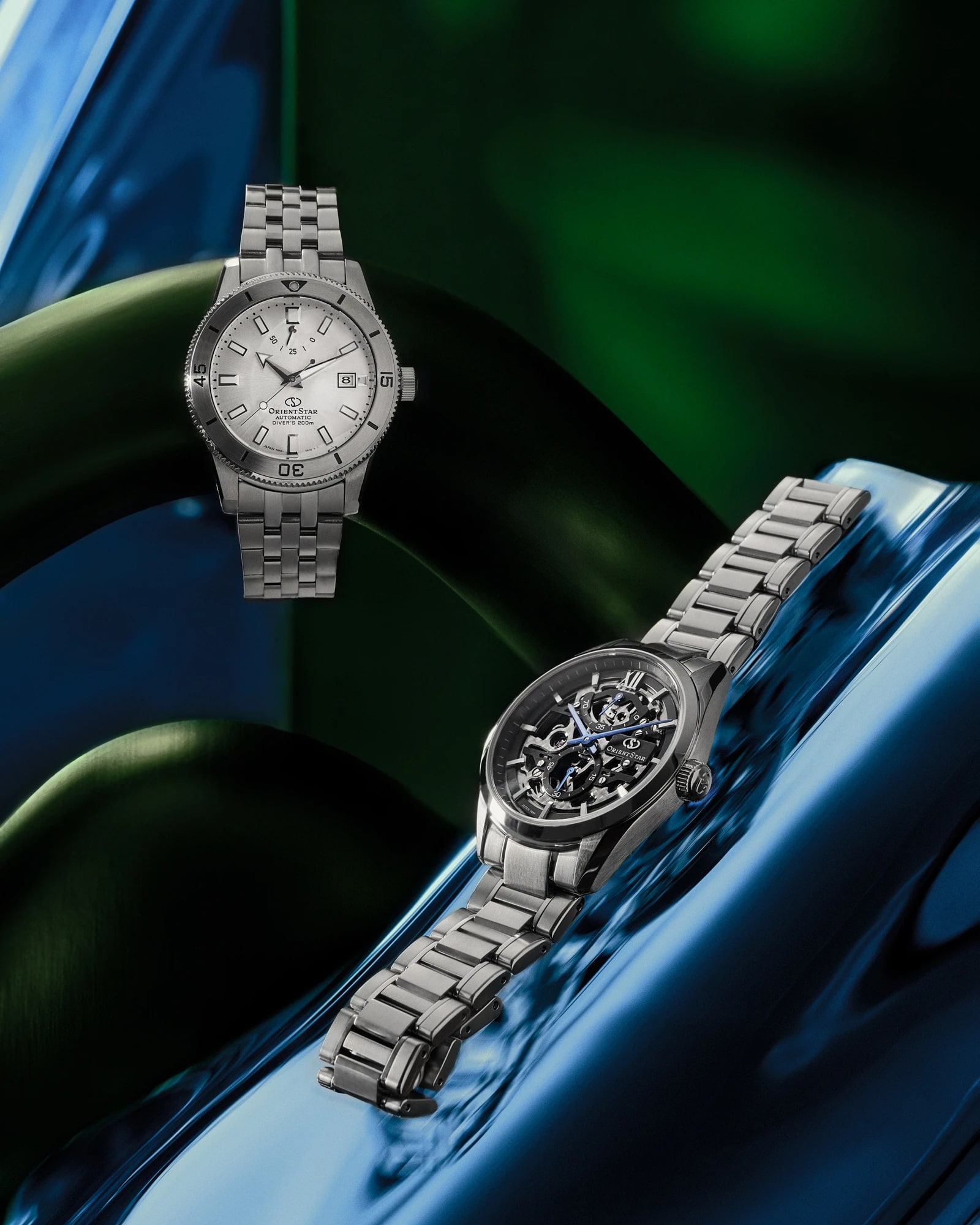 ORIENT STAR
THE WAY OF WATER AND THE SENSE OF SPACE
For over 70 years, top Japanese watch brand Orient Star has consistently crafted unmatched high-performance mechanical watches with enduring style that lasts a lifetime. Indeed, making joyful connections is one of the brand's pillar philosophies, and in these new releases, enduring connections are made with both the ocean's depths and the stillness and beauty of outer space.
AN ICON CONTINUES ITS DEEP DIVE
Orient Star's time-honored Olympia Calendar Diver watch debuted in 1964, well before modern ISO dive watch standards. Rated to 40 meters of water resistance and sporting a rotating bezel and rugged stainless case with distinctive sloping lugs, the original watch was designed for both sports and leisure.
For this year, the new 41mm Diver 1964 1st Edition with a glimmering silver dial (limited to 900 pieces) is chock full of authentic design details derived from the original timepiece that will fascinate vintage dive watch fans, but it is upgraded to current ISO-compliant specs for a 200m water-resistant diving tool, and now available in a compelling light-catching silver-toned dial.
Orient Star debuted the Diver 1964 2nd Edition back in 2022 with the same professional-grade specifications, in two appealing dial variations: A subdued mirror-polished black dial version, and a verdant matte green version inspired by the Ryusendo Cave's lake (a national natural treasure located in northern Japan).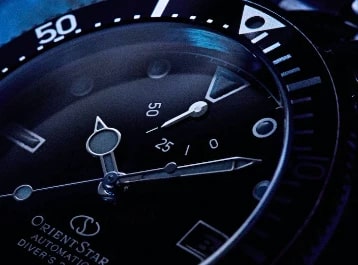 FURTHER READING
Orient Star: Diver 1964 2nd Edition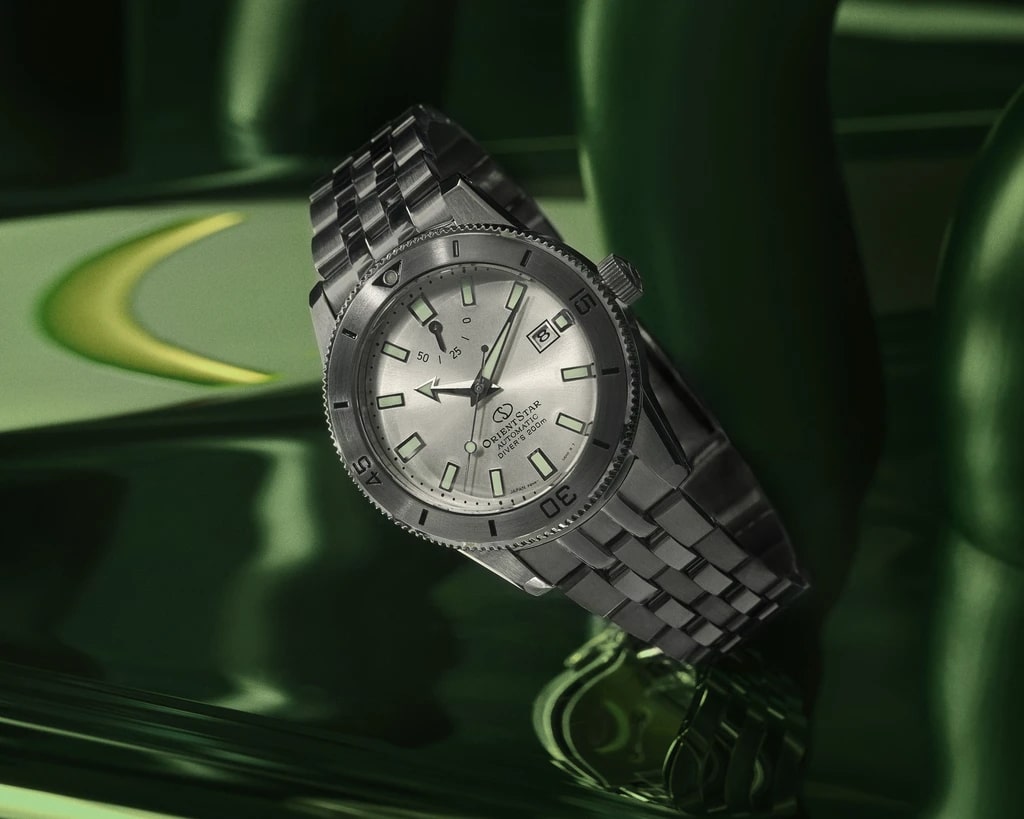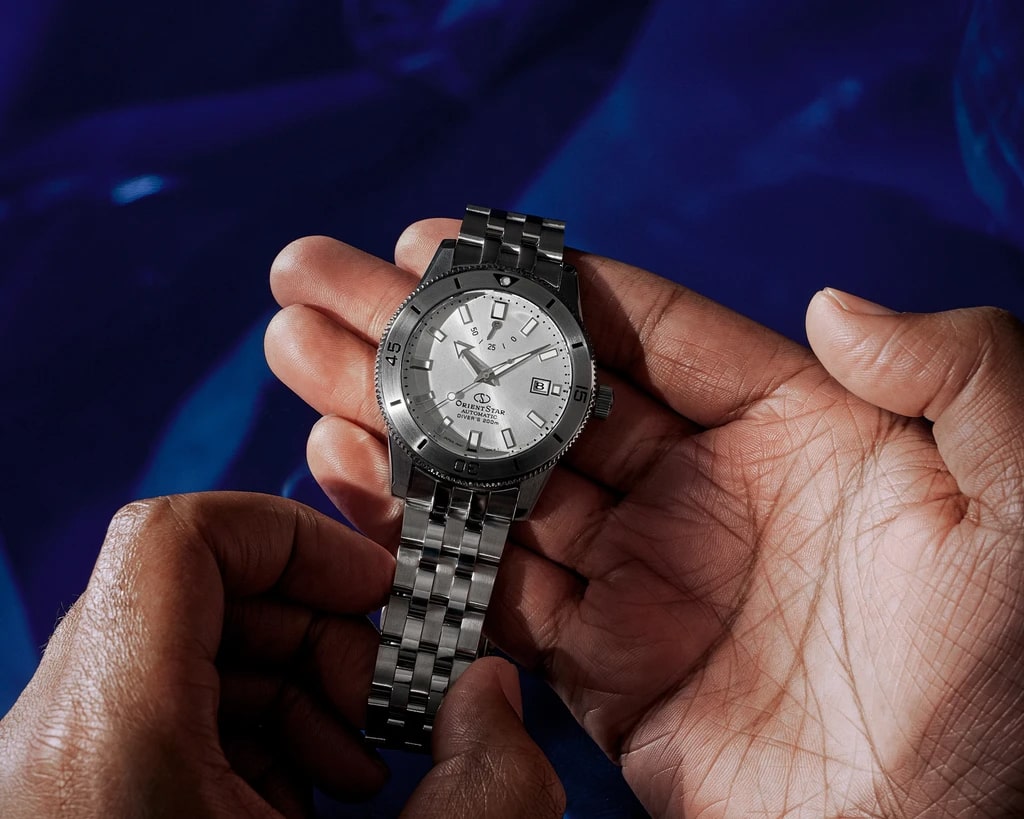 A modern F6N47 movement with 50-hour power reserve also constitutes a significant upgrade for all new Diver 1964 watches, but the fluted bezel, date window at 3 o'clock, angular lug design, and classic hand shapes remain faithful to the original sensation from six decades ago. An upgrade point that did not exist at the time of the original watch is its abundant luminosity, which now meets current ISO standard.
The game-changing inclusion of a 50-hour retrograde power reserve indicator riding at 12 o'clock on the new Diver 1964s not only presents a very unique feature for any mechanical dive watch, its signature presence proudly broadcasting from its new shiny silver canvas renders it instantly recognizable as one of Orient Star's signature "shining star" models. It is simply unmistakable.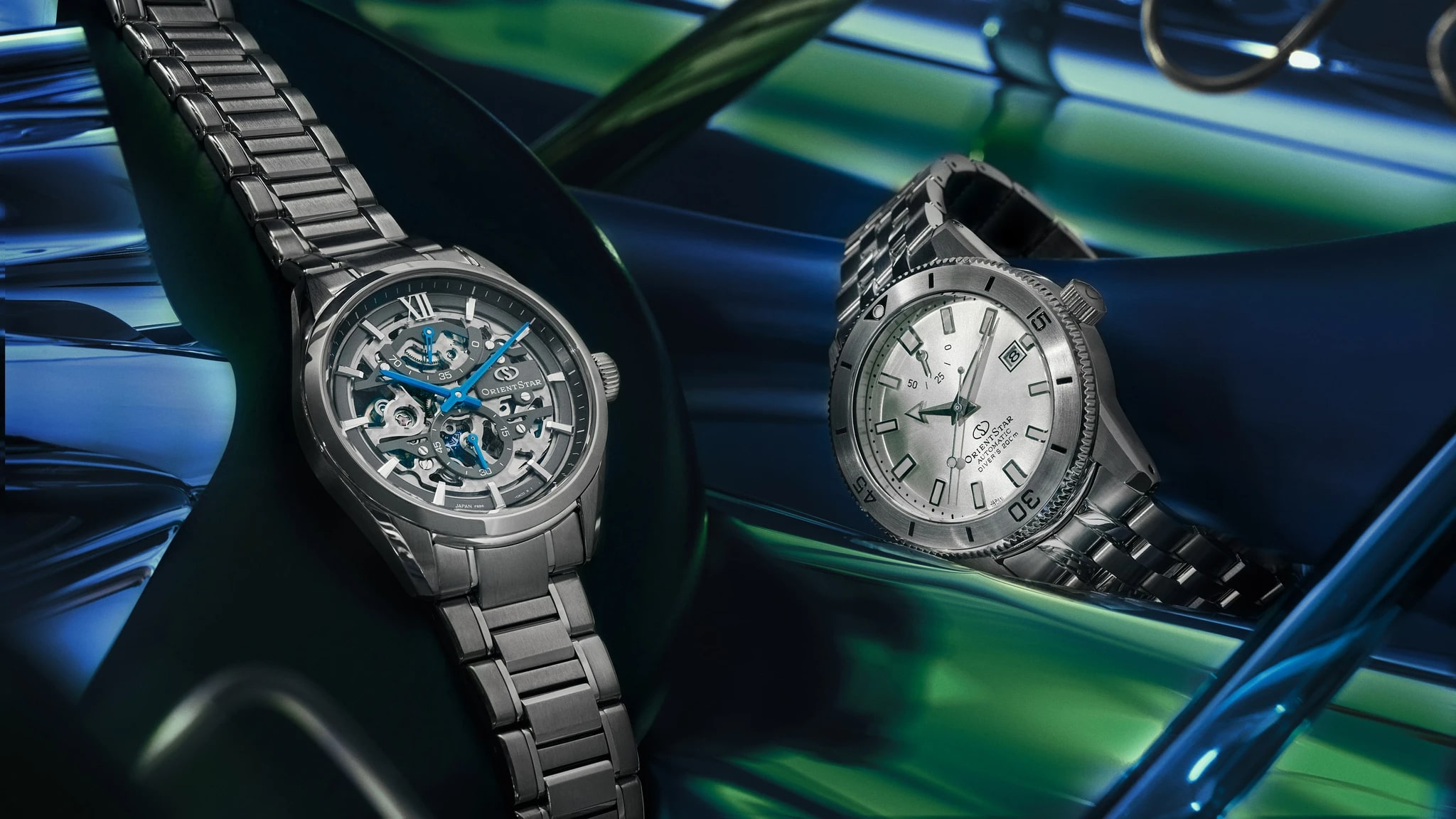 MODERN SPACE, MODERN ART
This year's latest addition to the Orient Star Skeleton series selects a new level of technicality and artfulness to weave its alluring interstellar web.
A wristwatch, after all, is essentially a wearable representation of cosmic movement. But this year's latest Skeleton execution from Orient Star (in non-limited production) takes the bold step of using it visible skeletonized design to not only project time-telling into a starry-eyed realm, but also use that technical design approach as a kind of "telescope works" to show you how that time is derived.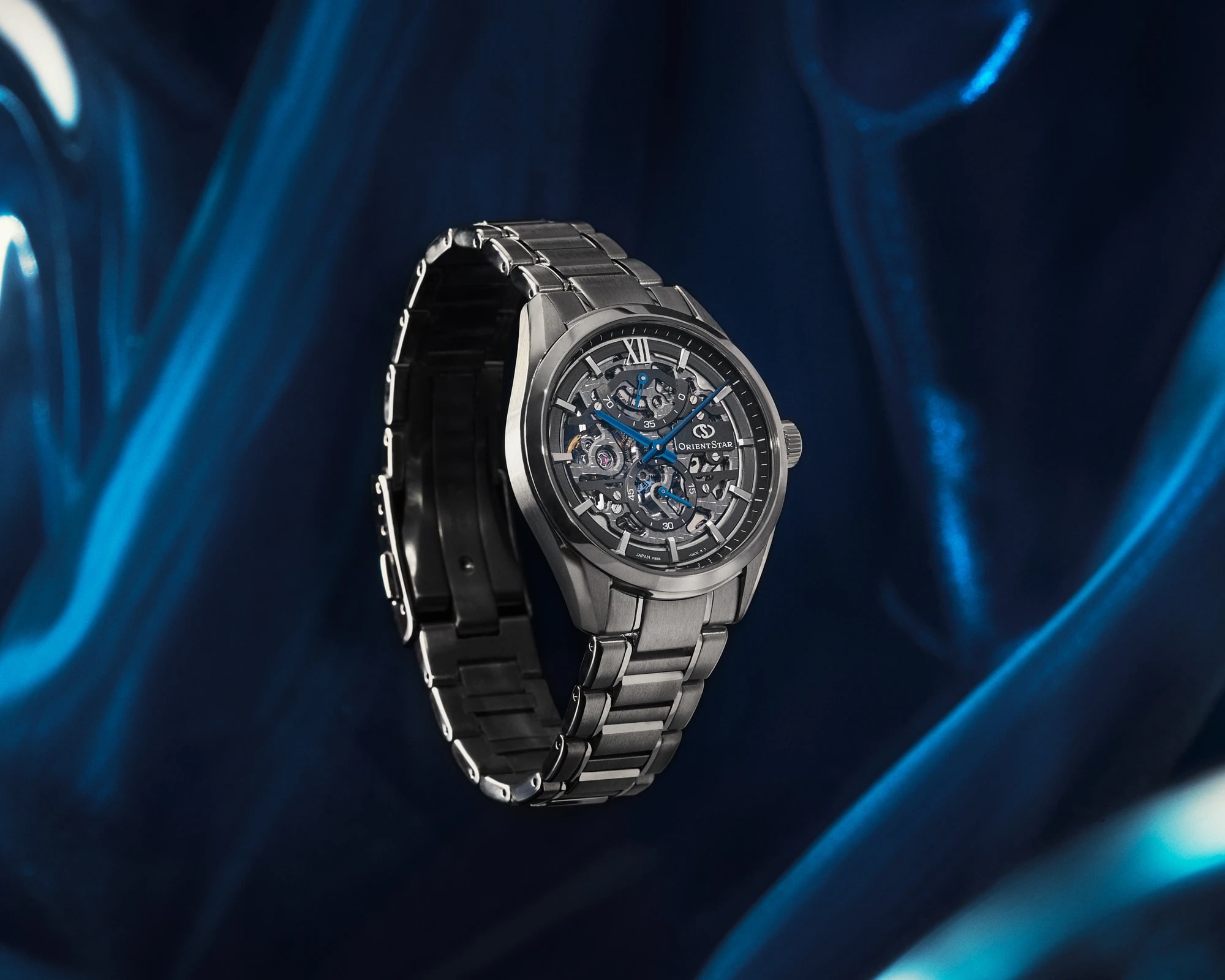 The existing Skeleton series timepieces continue to be perennially popular, with a cosmic, elegant element of transparency that adds space-age allure to the package.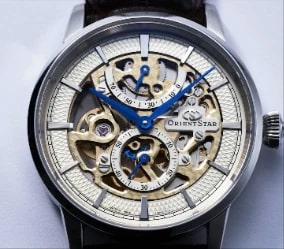 FURTHER READING
Orient Star: The Starting Point Of Creation
In the new model, a visible blue silicium escape wheel on the left of the dial evokes a lit-up Milky Way effect, a plate by way of a comet with two tails appearance adds a kinetic element. A sober gray movement defines a kind of "vast universe" concept for the watch, but the approach is beautifully restrained and artful at every turn. The new Orient Star Skeleton stays true to its technical nature, never veering into any kind of overly corny "space watch" presentation, at all. It's all about the technical view.
And, with new perlage movement chamfering on the front and clean Geneva-style striping on the back, what a view it ends up being, indeed. Equally gorgeous casework involving mirror finishing by Sallaz polishing match nicely to the enhanced movement detailing, creating a nicely balanced wrist instrument that packs a lot of technical punch into a surprisingly restrained 39mm steel package.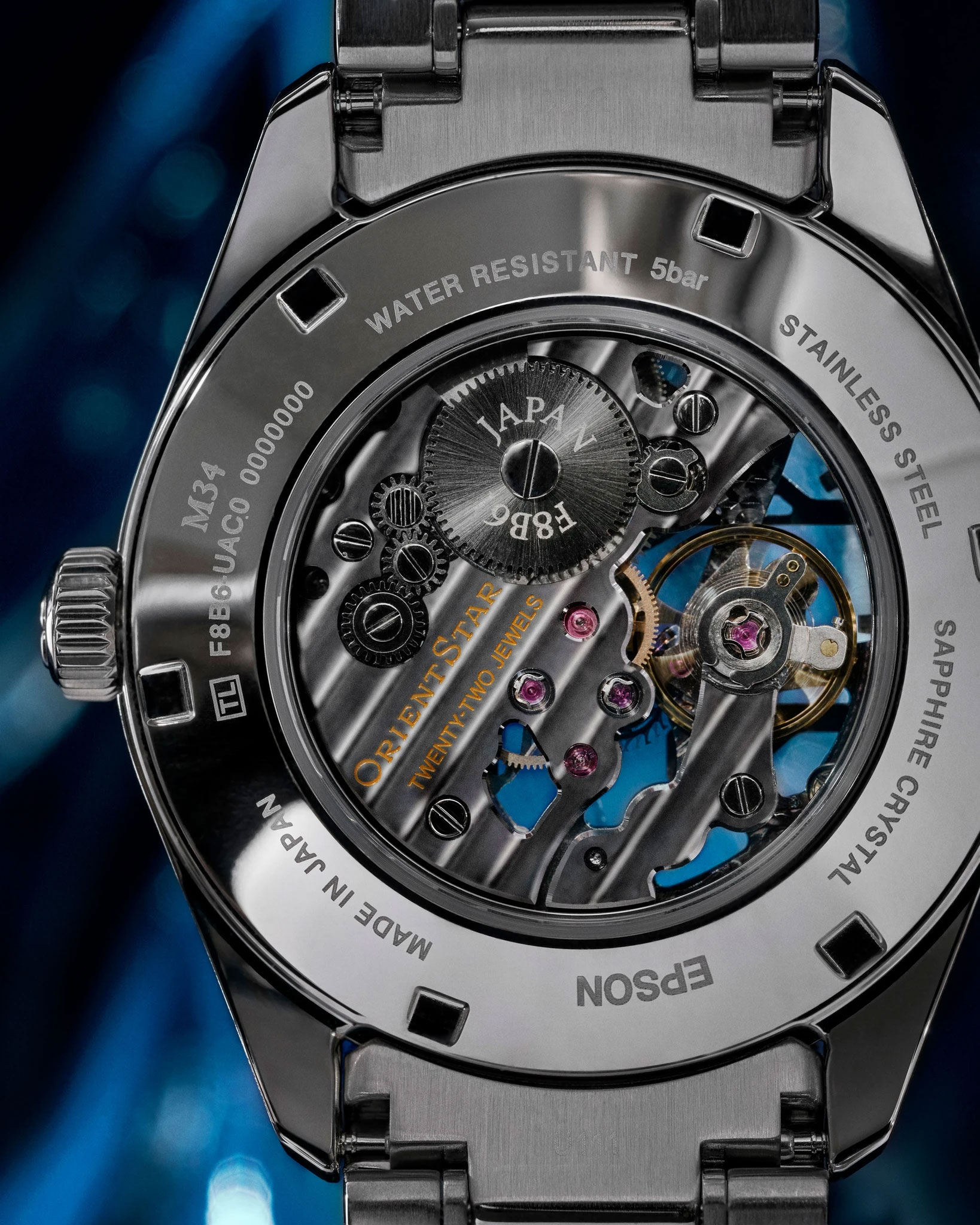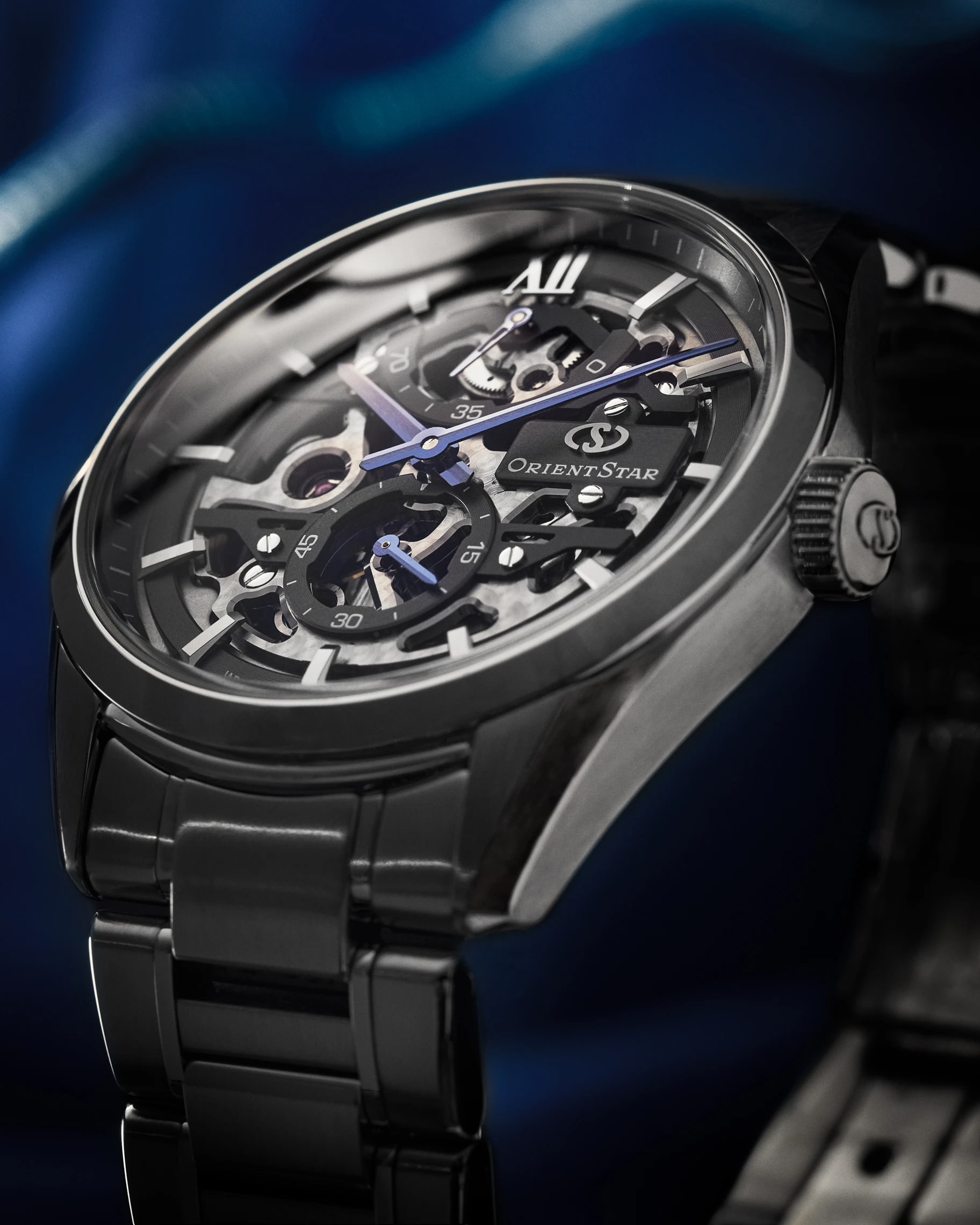 The bold, sculptural nature of the Orient Star Skeleton trails off the edges of its little universe with a terrific new bracelet design. Expect both mirror and hairline finishing, and side chamfering to bookend the watch with certain technical beefiness that is still right in line with the artful structural cues of the watch. Think of it as the perfect swivel stand for your wrist-worn time-keeping telescope.
This year's Orient Star Skeleton arrives on the scene loaded with multiple design innovations and patents: Super Anti-Reflective Coating on the glass gives a clear, undistorted view to the whole show. Escape wheel patents for rotation slip prevention and spring structure make that innovation more than just a pretty blue face, and overall leading-edge design approaches are equally played out on the astounding skeleton movement and the ground-breaking case that modernizes the appeal of the timepiece.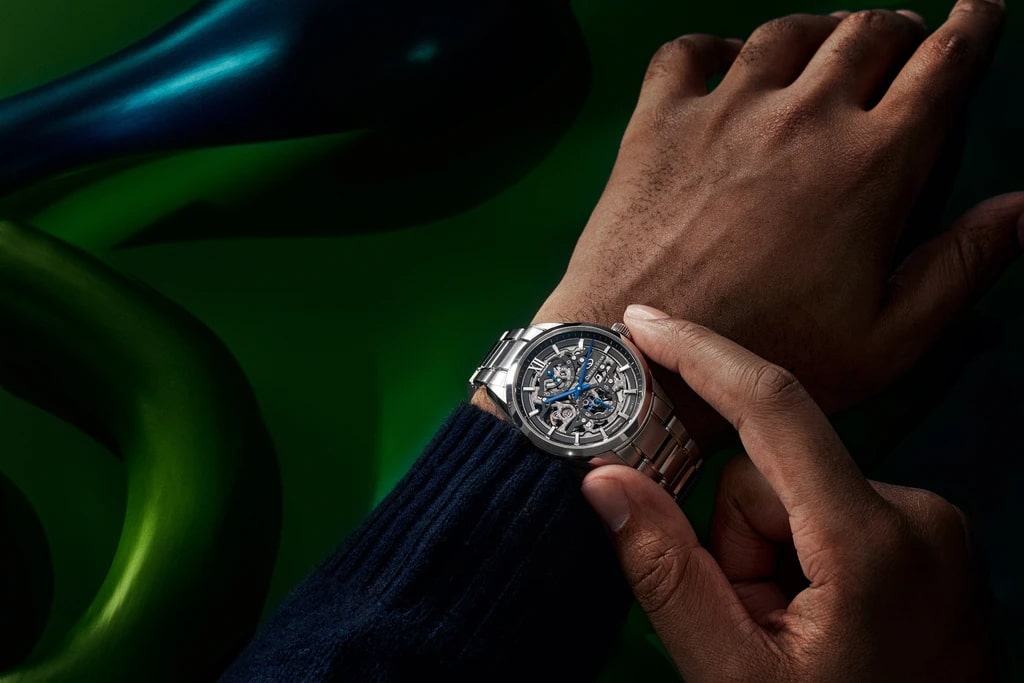 In that past, a skeletonized movement was generally relegated to overly fussy, overly classic noble metal and fine leather executions. While there is certainly nothing wrong with that approach, Orient Star has created something more like a "space age" skeleton timepiece. And it's ready for lift-off.
*Reprinted from HODINKEE.COM Edition APR.24.2023