Orient Star

Timepieces


Shine On
In celebration of its 70th Anniversary, watchmaker Orient Star debuts a series of compelling new timepieces that can only be described as "celestial."
When you think about it, a wristwatch, after all, is essentially a useful, wearable representation of cosmic movement. The lit-up numbers of a digital watch simply do not carry the gravitas of the critical relationship celestial bodies have with figuring what time it is on the particular part of Planet Earth you currently find yourself.
Over its 70 years of existence, timepiece maker Orient Star has been driven to create exquisite, yet accessible, mechanical watches that embody the spirit of a "shining star" themselves; fusing traditional timepiece craftsmanship with the latest watchmaking technologies developed by parent company Seiko Epson. Watches that can only be made by Orient Star, and nowhere else. Wrist instruments that communicate the maker's core values: A pleasure to wear, a delight to see, and a source of joyful connection.
In the case of these special 70th anniversary timepieces, a joyful connection is made to space itself; a connection so profound that it defines the very essence of time-keeping.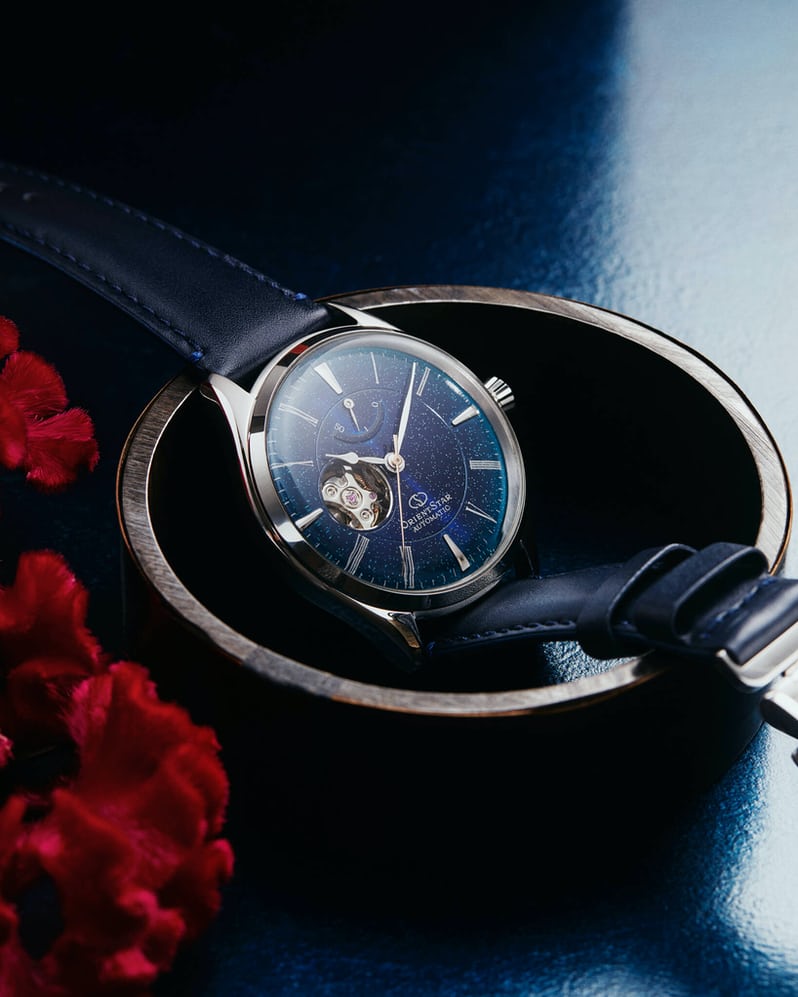 THE CLASSICAL UNIVERSE
Orient Star's so-called "semi-skeleton" models, which deliver a prominent view at 9 o'clock into the intricate workings of the timepiece, have been perennial favorites with the maker's customer. For the 70th anniversary, these semi-skeletons receive an artful re-envisioning as the view inside the watch is complemented by a dial approach that brings the mind, and the eye, far outside and into the cosmos. An intricate, dramatic dial pattern of star clusters shine out from a midnight-blue backdrop, creating a kind of planetarium on the wrist in both the 40.5mm mens and 30.5mm ladies limited-edition models.
The star scape runs uninterrupted across the entire watch face, overlaying the signature Orient Star 50-hour retrograde power reserve indicator at 12 o'clock on the men's version and flowing over the elegant, elongated Roman indices along the edge of the embossed, curved dial on both versions. The ladies version adds a celestial touch of sophistication with a PGP-plated gold tone on both the crown and inner edge of the case as well as a bright white inner dial ring that intersects the skeleton window.
A stylish French-turned-edge leather strap with a tri-fold deployant closure completes the presentation, and both mens and ladies versions are presented in a special 70th anniversary presentation box.
TO THE MOON
Of course, our planet's closest neighbor in space, the Moon, needs to be included in any conversation about the universe. In that vein, the master watchmakers at Orient Star have crafted an elaborately complicated limited-edition (100 pieces) 41mm moon phase version of the semi-skeleton to cover that lunar component for the anniversary.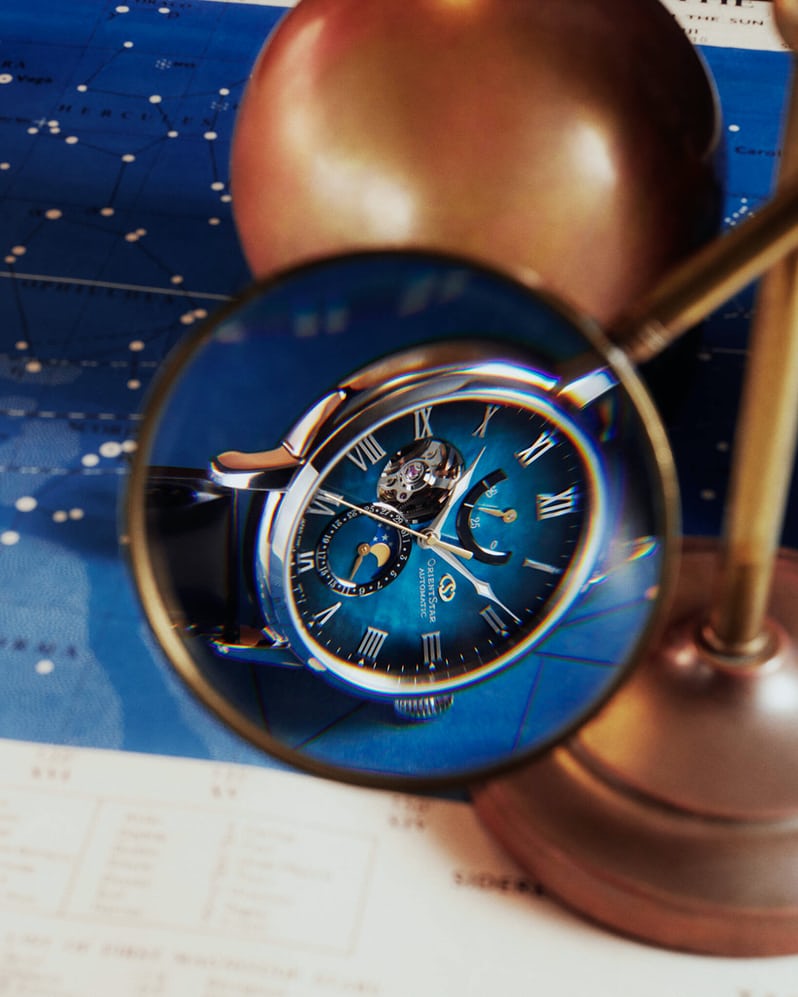 For this dramatic dial approach, mother-of-pearl, with a graduated tone moving from green to blue, is employed to evoke the mystery of a deep-space nebula. This ethereal backdrop is balanced by a bolder dial detail design with prominent indices and a colorful classic moon phase and date indicator at 6 o'clock that slightly overlays the 9 o'clock skeleton aperture view of the balance wheel. The pitch black of the moon phase indicator's date ring is echoed in the more elaborate 50-hour power reserve indicator at 12 o'clock, and gold tones on the Orient Star logo, hands, indicators, and visible balance wheel add a dose of stellar sophistication to this complicated endeavor.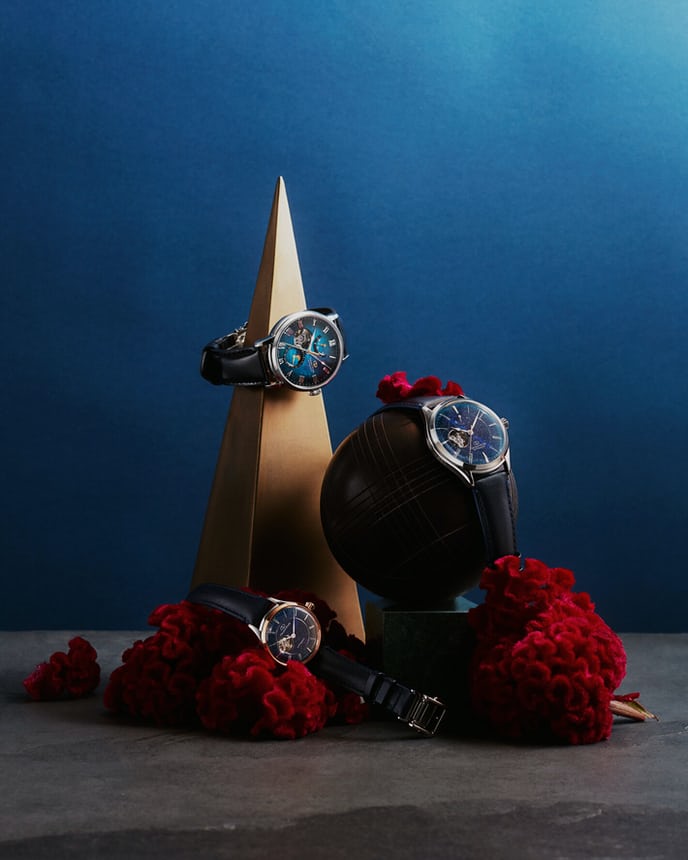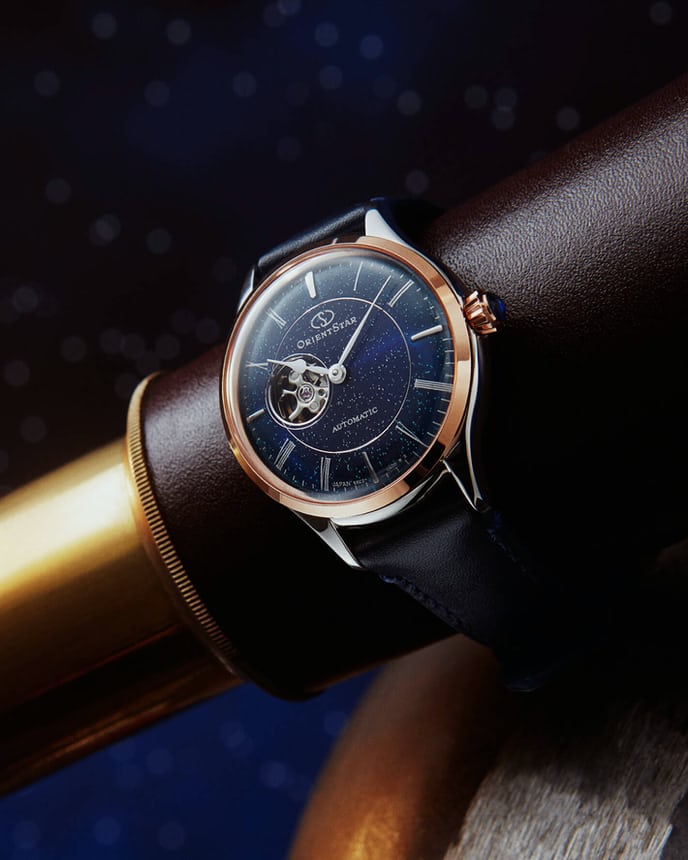 A stitched navy Cordovan strap that picks up the blue tones of the nebula dial colors bookends this marvelous timepiece, which is also delivered in a 70th anniversary presentation box.
Orient Star is also releasing a series of more-terrestrially inspired versions of it popular semi-skeleton watches as an added celebration for its 70th anniversary. Color ways, along with diamond-cut edges on the dial surfaces, communicate a more-earthbound play of light in nature. Appealing sky blue, champagne gold and deep forest green tones in 40.5mm versions for men and sky blue, champagne gold and pearl grey hues in 30.5mm versions for women define these special releases.
70th Anniversary Limited Edition Classic Semi-Skeleton, Women's

DISCOVER

70th Anniversary Limited Edition Classic Semi-Skeleton, Men's

DISCOVER

70th Anniversary Limited Edition Classic Mechanical Moon Phase

DISCOVER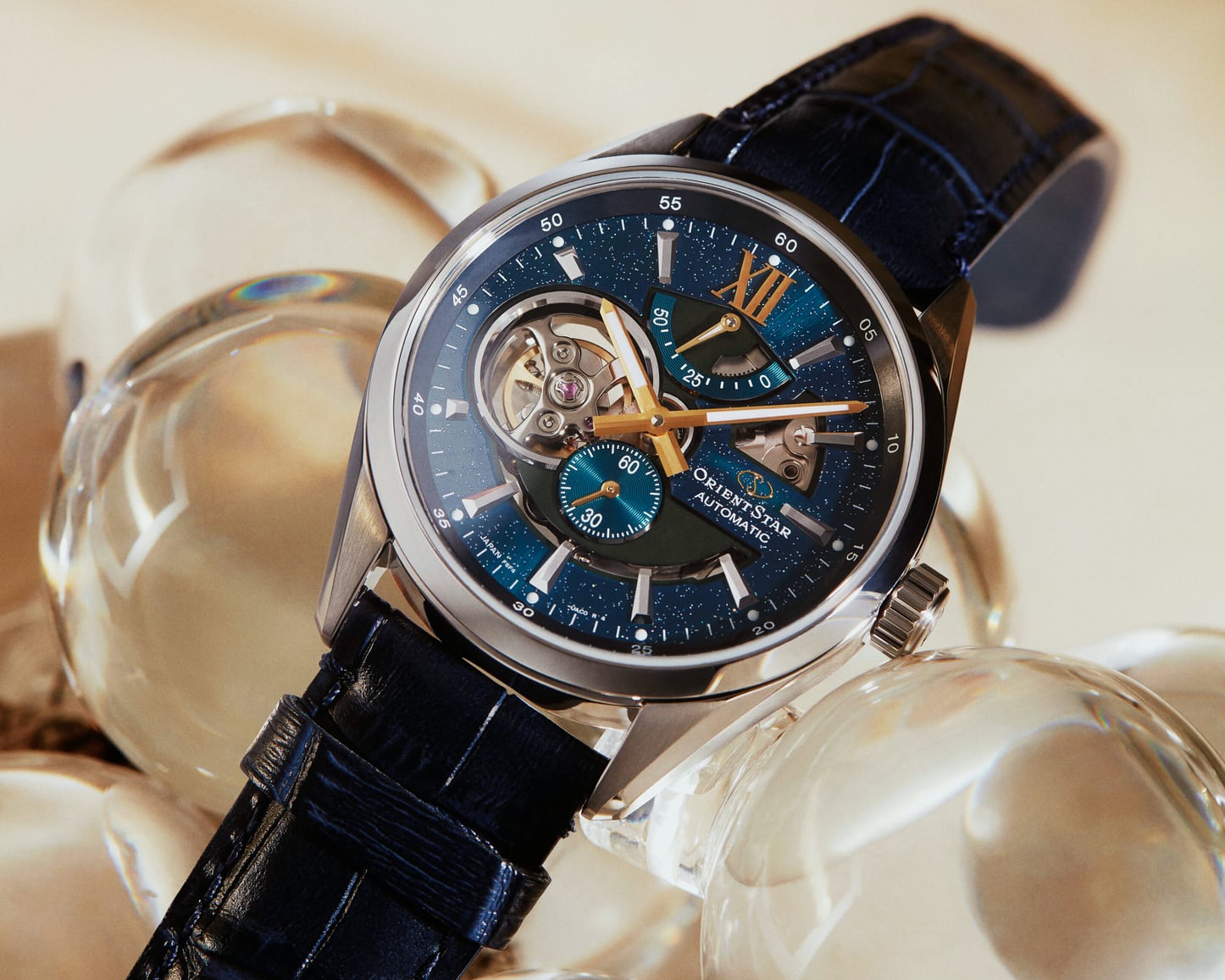 CONTEMPORARY COSMOS
While the anniversary versions of the semi-skeleton models described above employ a more simplified, classic layout to highlight the dramatic beauty of the dial's star scape, Orient Star's artisans have taken the opportunity to re-cast the popular timepiece in a more modern, technical vision.
A brilliant star scape, this time in a more blue-green tone, still serves as a cosmic canvas for this 41mm limited-edition (600 pieces), but contemporary design cues populate this little "galaxy." With the exception of the golden Roman 12 o'clock index, hour markers are constrained to bold, metallic rectangular hash marks, of consistent appearance but of varying length to accommodate the complex use of the dial real estate.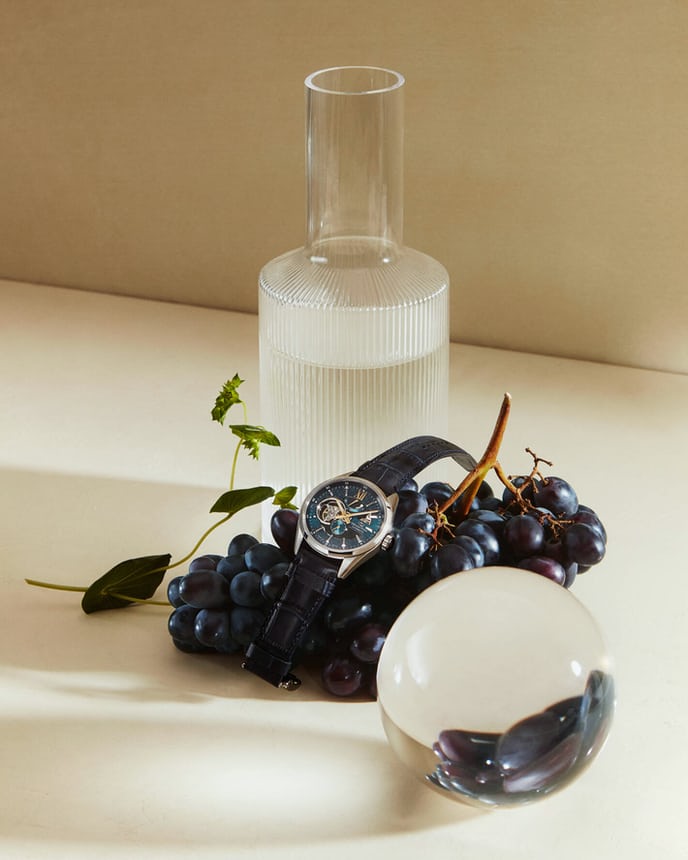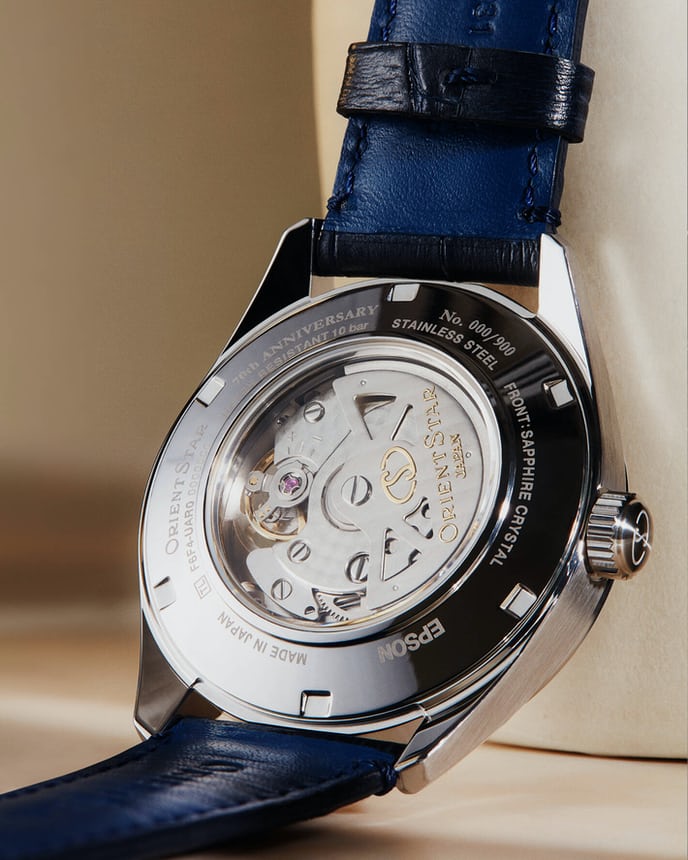 That technical vibe is picked up by the framing of the enlarged skeleton aperture view of the balance wheel at 9 o'clock, a partially skeletonized 50-hour retrograde power reserve indicator at 12 o'clock and additional triangular view into the watch works at 1 o'clock. More echoing arrives via some metallic bridging along the bottom half of the dial that unifies the hour markers, and a new small seconds indicator floating on a black backdrop at 6 o'clock, that, like its moon phase cousin, slightly overlays the main skeleton aperture. And, like its moon phase relative, pops of gold via the minute and hour hands, power reserve hand, small seconds hand, and visible balance wheel add in a layer of sophistication to this decidedly tough-looking timepiece.
EXPLORING "INNER" SPACE
While certainly decidedly terrestrial, the natural, emotional counterpoint to the mystery and grandeur of space is the mystery and grandeur of the oceans. While dive watches have played a critical part in expanding our understanding of our planet's waters, as with the cosmos, there are limitless unexplored territories yet to conquer.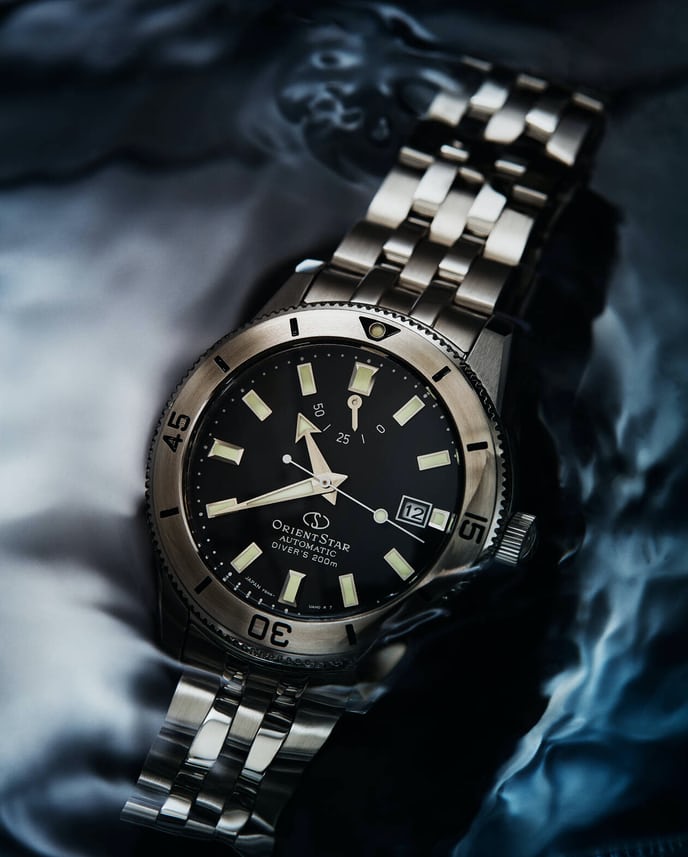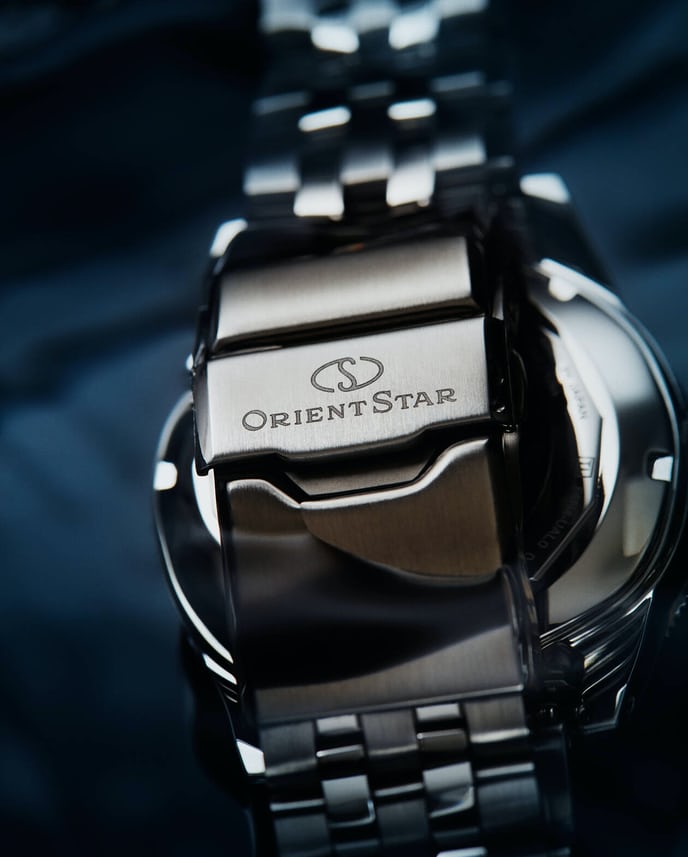 To recognize that aspect of "inner" space for its 70th Anniversary, Orient Star is launching a redux of its time-honored Olympia Calendar Diver watch that debuted in 1964. The new 40.2mm Diver 1964 (limited to 500 pieces) is chockfull of authentic design details derived from the original timepiece that will fascinate vintage dive watch fans, but it is upgraded to current ISO-compliant specs for a 200m water-resistant diving tool.
A modern F8B63 movement also constitutes a significant upgrade, but the fluted rotating bezel, date window at 3 o'clock, angular lug design, and classic hand shapes and luminosity remain faithful to the original. The inclusion of a 50-hour retrograde power reserve indicator at 12 o'clock on the Diver 1964 not only presents a very rare addition for any mechanical dive watch, its signature presence proudly earmarks it as singularly one of Orient Star's "shining stars."
Limited Edition Diver 1964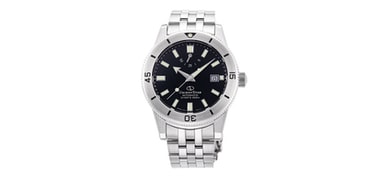 DISCOVER
ADDITIONAL TIMEPIECES FROM THE SERIES
*Reprinted from HODINKEE.COM Edition FEB.18.2022